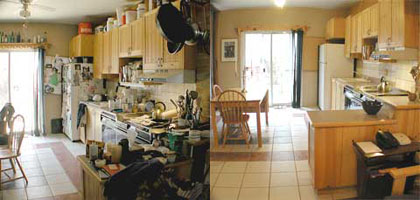 If you need to sell your property quickly, it is very important to understand the current market trends and price yourself competitively. Here's a list of things you should and shouldn't do when you are tying to quick sale a property.
What to Do
Make your home welcoming: Go the extra mile to make your home show well. Turn on all lights and open all window treatments before showings to create a bright, airy atmosphere. Declutter and tidy up as much as possible. If you don't have time for a full house purge, at least make sure all surfaces are clear and closets are neatly organized. Remember, you want your home to appear spacious, not crowded.
Get out of Dodge: When potential buyers view your home, they want to see your property, not you. Always leave the premises. The buyers will feel more comfortable and are likely to spend more time looking at your home and fully considering it if you are not there.
Work with a real estate agent: A real estate agent knows what works best in your market. Find a reputable real estate company that knows the market well, and you will benefit by receiving the right input to make your home stand out and attract more offers. Additionally, a real estate agent is familiar with all the documentation involved on closing a property, will walk you through the process, and will handle much of the paperwork required.
What Not to Do
Overpricing your property: Overpricing your home only delays your sale and will end up costing you more money in the long run. Set your price on real values, not speculation. It's helpful to get a 3rd party property appraisal and always consider features, location, and current market trends. Work with your buyer when an offer is presented. It may not be what you were expecting at first, but after a few exchanges you may settle for a price that you may feel comfortable with. As a general rule of thumb, if your property has been on the market for more than 6 months, you probably need to address the asking price.
Personal items: A home filled with personalized photos and décor can turn buyers off. Make your home look neutral. This will increase your homes appeal to a greater number of buyers. This might mean removing family photos or repainting your bright orange bathroom.
Clean your storage spaces: When you declutter your home, don't simply throw everything in the closets. Your storage spaces need to look large, useful, and inviting.