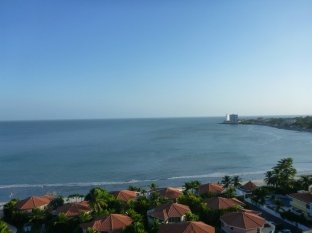 Coronado is located about 1 hour from Panama City. One of the primary advantages of beach front real estate and resort real estate in Coronado or its neighboring towns is that there is a significant amount of infrastructure already in place.  Coronado was Panama's first weekend/resort development, and for this reason has several years advantage to the other surrounding beach towns.  Currently one can find such amenities as 2 full scale supermarkets, pharmacies, restaurants of every type and price range, a private emergency clinic, veterinary clinics, gardening centers, hardware stores, banks, and outdoor markets, etc.
On a recent article from Market Watch, Coronado was chosen as one of the three most affordable destinations to retire quoting:
Panama is known as a safe country and ranks in the top 100 (82nd, to be exact) in the world for health-care quality and access, with residents saying Panamanian health care is generally affordable. And Coronado in particular — it's around 40 miles west of Panama City on the Pacific Ocean — is considered a very safe community with "a top-notch medical facility," says Suzan Haskins, a senior editor at International Living.

Once a resort town for affluent Panamanians, in recent decades Coronado — whose beaches feature black-and-white speckled sand — has become popular with expats, who enjoy the golf, shopping and restaurants in the area.

It's also pretty affordable: If you don't live right by the beach, you can get by on under $2,000 a month, with the added bonus of a pensionado visa program that offers a ton of discounts for seniors. One downside is that, because Coronado is a resort town, it can feel hectic at times because of tourism.
Real Estate in and around the Coronado Resort is attractive for several reasons, including its natural beauty, warm climate, low cost of living and many amenities including one of the finest professional golf courses in Latin America. The course has 18 holes, is a par 72 consisting of 7,092 yards, and it was designed by Tom Fazio, who was recently ranked as the #1 golf course designers in the world.
You can learn more about Coronado by viewing our Coronado Real Estate listings.