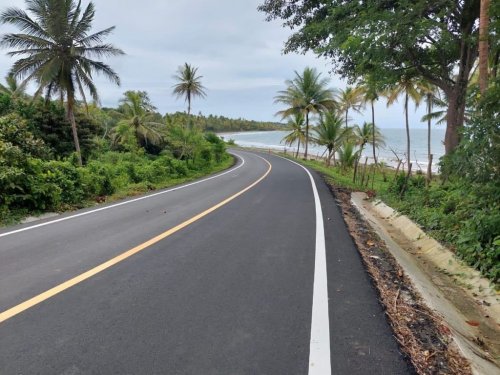 The construction of the Caribbean Corridor project will link the Panama-Colón highway with the Costa Arriba and it will cost approximately $91 million dollars.
The project includes study, design, construction and financing of the Quebrada Ancha – María Chiquita highway, which has an approximate length of 28,442 kilometers and will benefit more than 55,800 inhabitants of the districts of Colón and Portobelo, which will add a new road structure to improve land connectivity in the province of Colón.
By optimizing the region's road network, it is expected that new opportunities will be created for internal tourism in the province that will have a positive impact, especially on the most vulnerable population, always with the purpose of achieving social development. It is also expected to benefit producers in these areas, by facilitating a better way to transport products and merchandise.
According to official information, this work will be delivered within 730 days, two years from the delivery of the order to proceed.
The design, financing and construction of the project includes all the necessary topographical, hydraulic, hydrological, soil, geotechnical and environmental studies required to guarantee the quality of a work of this nature.
The project begins in Quebrada Ancha, near the intersection with Boyd Roosevelt Avenue, and ends at the intersection with the highway to Portobelo.
The work consists of the construction of seven vehicular bridges, namely: Over the Gatun River; Bridge over the Gatun River 1; Bridge over the Gatun River 2; bridge over Quebrada Agua Clara 1; Bridge over Quebrada Agua Clara 2, bridge over Quebrada Agua Clara 3 and Bridge over Río Mango Indio.
In addition, they include an acceleration lane at the exit of the Quebrada Ancha-María Chiquita highway, a deceleration lane (access to the highway), a roundabout, four level returns on Boyd Roosevelt Avenue, a vehicular viaduct and an underpass with its Access.
The works include the design of the pavement structure, drainage and storm drains; construction of paved gutters, metal-type protection barriers, the design and construction of pedestrian sidewalks in places near schools, parishes, health centers, sports centers and parks, among others.
In addition, the design and construction of entrance to secondary streets, entrances for access to homes, shops; the design and placement of complete horizontal and vertical signage for road safety; the design and construction of booths and bus stop bays, among other facilities of the work.