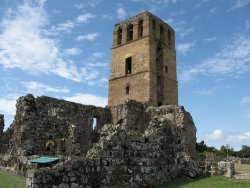 Old Panama was founded by Pedrarias Davila on August 15, 1519. It became the first European establishment in the Pacific. The city was used as a passage for the gold coming from Peru to Portobelo and Nombre de Dios where it was shipped and send to Span. In 1671, one thousand men led by Henry Morgan ascend through the Chagres River to the city, which was completely sacked.
The most impressive structures remaining are the Cathedral with a massive bell tower and the Bishop's House, San Juan de Dios Hospital and the remaining of houses and stores, as well as the view of the Bay of Panama, where the Spaniards and pirate ships once sailed.
The Royal Houses hosted the power of the city. They were located on a fortified rocky promontory surrounded by a wall of earth and wood, and separated from the city by a dry pit. The complex was formed by a custom, office of treasurer, a prison and the Royal Houses.
The Nuestra Señora de la Asuncion Cathedral was built between 1519 and 1626, following the style of the time. It has the shape of a cross. The bell tower was located in the back and it probably served as both, a bell tower and watchtower for the Royal Houses.
The town hall, Cathedral and Bishop's house are situated in the Plaza Mayor. To the north is the location of the Santo Domingo Convent built in 1570 and its church built 20 years later. They represent the most conserved religious structures of the city.
Old Panama offers to the visitor a Site Museum, which exhibits scale model of the City before 1671 as well as colonial devices and pre Columbians brought from Spain.
In recent years, the Panamanian government has restored several of the remaining structures of the city, as well as established better access points for tourism purposes.