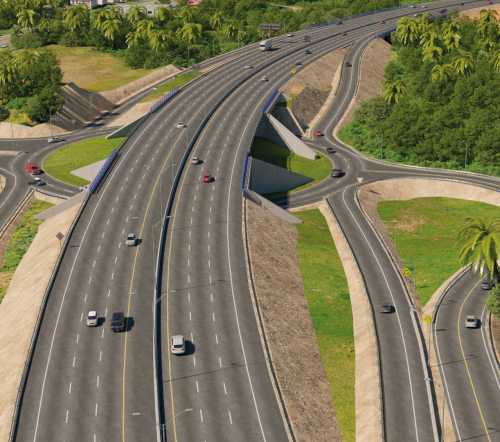 The Corredor de las Playas project which is looking to expand to six lanes in Las Playas Corridor, province of Panama Oeste, currently presents a physical progress of 30%. It consists of the construction of a 1.7 kilometer long viaduct and the rehabilitation of the four lanes of the Pan-American highway, from the highway exit to the El Espino sector in the district of La Chorrera.
The entity indicated that the first section of the central beam of the viaduct, concrete casting work is being carried out, construction of a scale wall for access in the La Pesa sector, which consists of prefabricated concrete pieces, which assembled make the containment function of the earth, select material, stone and concrete that is used for its elevation.
Conformation, transfer and compaction works of select material and base layer are also carried out, for the construction of two provisional lanes, parallel to the existing ones, towards the Los Calderones farm.
These activities are carried out with the purpose of enabling four circulation lanes, to keep traffic flowing, while the rehabilitation work of the two interior lanes towards La Chorrera is carried out.
These works also contemplate the placement of concrete pipes for residential and commercial entrances, storm drains and gutters.
In addition, the drilling and concreting of piles continue, of which 92 have already been completed, out of the 144 that the work contemplates. Also, earth moving works are carried out, land conformation, relocation of public easements and filling at the highway exit, where an access to the center of La Chorrera is also contemplated.
So far, more than 200 collaborators have been employed in the execution of this project that will benefit more than two million users in this region of the country, who will have a modern road network and will contribute to the economic and social development of the province.