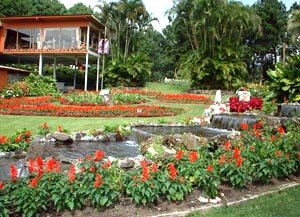 There are numerous destinations throughout Panama that are worthy of visiting and will provide wonderful vacation memories to last a lifetime. One such vacation destination is the charming and beautiful town of Boquete. Boquete is situated in the Chiriqui providence near the foot of Volcan Baru, the tallest mountain in Panama. The surrounding area is home to numerous coffee farms and is also within close proximity of Armistad International Peace Park.
Boquete is often referred to as the city of eternal spring or the city of flowers and coffee. It was founded on April 11th 1911 and its first inhabitants were originally from other districts as well as inhabitants from Switzerland, Yugoslavia, Sweden, Germany and North America. For this reason, its properties, farms and houses are a showcase of reminiscences from styles of architecture that are traced back to these countries.

Hikers, in particular, love Boquete for the fabulous hiking opportunities that abound here. Volcan Baru is the tallest mountain the country and provides breathtaking opportunities for hiking. The Los Quetzales trail is known to be one of the most beautiful in the country and offers treks all the way around the north side of the mountain, providing ample opportunities to observe a wealth of natural beauty. Nature lovers can also enjoy safe, leisurely bike rides throughout the local countryside as well.

The local coffee culture and plantations should certainly not be missed during your trip. As a producer of coffee, Boquete holds the first place, and the quality of the grain is the best in the Republic. Even if you are not a coffee drinker, it can still be quite entertaining to tour the coffee plantations and find out more about how the beans are grown, harvested and processed. Of course, if you are a coffee lover, there is simply nothing better than taking a coffee plantation tour and enjoying delicious sample tastings.

Whitewater river rafting is another extremely popular local activity. The different rafting options in the local area are renowned throughout the world for Class III through Class IV rapids. The surrounding thick jungle and steep canyon walls only add to the exhilaration.

Bird watching opportunities abound throughout the local area as well. If you are a birder, you will certainly want to take advantage of the opportunity to catch sight of some of the most beautiful species in the world during your trip. Be on the lookout for species such as black cheeked warblers, quetzals, pale billed woodpeckers, zeledonias, peg billed finches and masked duck.

Beyond exploring the natural beauty of the area and exploring coffee plantations, you can also simply sit back and relax while enjoying the soaring mountains and long winding rivers that make up the beauty that is exclusively Boquete.